Find your fluent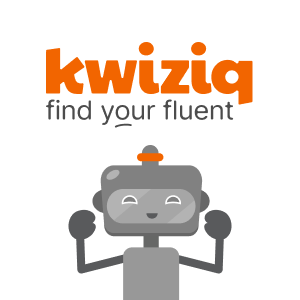 Kwiziq is an online language learning platform that helps you get to fluency faster*.
It reduces friction, increases focus and uses proven techniques to enhance the learning process however you choose to study.
Our AI language coach, Kwizbot, works with you like a human teacher would, pushing you forward at an appropriate (and dynamic) pace, filling in gaps, correcting errors and most importantly, avoiding frustration by moving quickly past topics you've already mastered.
Kwizbot is the gateway to an ever-expanding set of learning materials, intelligently matched to your level and skills. He identifies your specific needs (what you've learned, not learned, and crucially, mislearned) and then addresses those needs with high-quality, engaging learning tools and materials. All of our in-depth lessons, engaging exercises and challenging kwizzes are carefully written by our expert language teachers.
*Students report learning up to 10x faster.
Is Kwiziq for me?
Kwiziq is focussed on (but not exclusively for) post-beginners. While all learners are welcome, our AI-driven personalised learning tools really shine for those a little further along their language-learning journey. Learners at this level struggle to find material and exercises which is frustrating and time-consuming; they also often struggle with "What do I do next?".
As students learn, they need to practise and fix different things. Kwiziq solves this problem by learning exactly what you know and don't know so that it can help you practise exactly what you need to make progress.
Interested in knowing where you currently stand? Test your Spanish level and let Kwizbot guide your journey.
Take our Spanish CEFR level test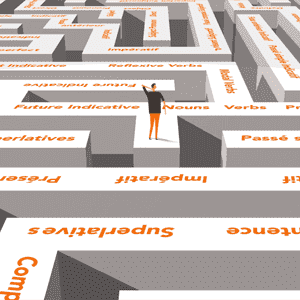 You need to know where you are before you can work out where to go next, so the very first thing to do after signing up is to set your level according to the Common European Framework of Reference for languages (CEFR).
There are two ways to do this, the first one is to set it yourself if you already know it and the second one (and the one we recommend) is by taking our CEFR Spanish level test and letting Kwizbot define it for you.
Our specially designed level test starts from beginner Spanish questions and goes all the way up to advanced ones. We test key indicator areas to determine your approximate level.
Once you have taken your test, Kwizbot will start to build up a picture of what you know, don't know or may have mislearned. Then, he will create a personalised Study Plan and short kwizzes to help you practise what you need to. No matter your level, you'll be given a starting point to focus your progress.
Where the Magic Happens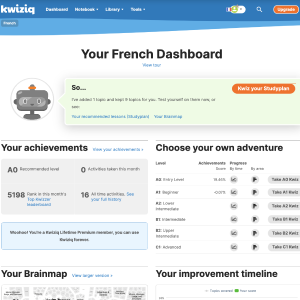 Your learning dashboard is where all the action happens! Here you'll find your personalised Study Plan with the lessons that Kwizbot recommends you study and take kwizzes to test your knowledge afterwards.
You'll see a high-level view of your progress and achievements here, plus your improvement timeline, test history and more.
There are also timelines and charts for each level so that you can see how you're doing with the content for that level specifically.
Personalised Study Plan & Kwizzes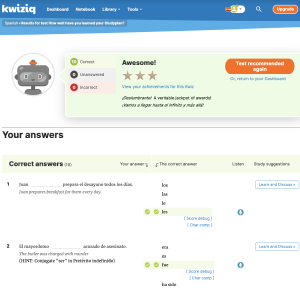 Kwizbot creates and evolves your Brainmap and personalised Studyplan, updating them every time you take a kwiz.
Your Study Plan will always be filled with in-depth lessons created by our qualified teachers that you can complement with engaging exercises and challenging kwizzes. Our kwizzes are fun, short tests focussed on the topics in your Study Plan that will help you learn as fast as possible, skipping areas he determines that you've already mastered.
After every kwiz, Kwizbot analyses your progress to determine whether to keep the current topics or pick new ones, he can also occasionally bring back lessons so that you don't forget things you learned earlier. This way, you'll always get the right balance between repetition to reinforce what you know and challenge to master new topics.
Each lesson is carefully made by our team of qualified native-speaking teachers. They clearly explain everything and teach with examples, showing you sentences that use particular constructions important to your Spanish learning. You can click any example to listen to it being spoken aloud to ensure your pronunciation is correct.
Engaging Exercises & Learning Materials
You'll get access to our reading, writing and listening exercises, as well as our vocabulary and grammar study lists and fill-in-the-blank exercises.
Our Premium users receive weekly weekend challenges by email, while our free users get them once a month. These challenges are carefully designed by our world-class Spanish language experts and challenge you to "integrate" what you've learned; in other words, to practise pulling together grammar and vocabulary to both comprehend and produce complex Spanish sentences.
These self-marked exercises will help you quickly identify any gaps in your knowledge and work out exactly what you need to work on.
What's a Brainmap?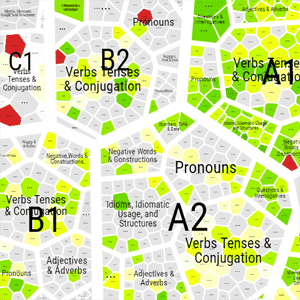 Your Brainmap is a very smart, detailed and ever-changing map made just for you, which provides a beautiful overview of your study topics divided into grammatical areas within each CEFR level.
Kwizbot uses sophisticated algorithms to identify - with laser-like precision - the areas of Spanish that you need to work on. We cover pretty much every conceivable grammar rule you will need to master. Over time, Kwizbot will guide you through them all, keeping track of how confident you are in each area in your Brainmap.
Premium users can access an interactive version of their own Brainmap. These are fun to explore and use as a guiding map for your practice sessions. They're also a powerful way for teachers to see what students need help with.
Notebooks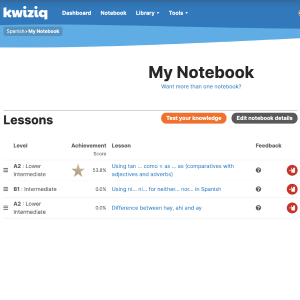 You can take control over what you study and practise by using your Notebooks. Use them to keep track of topics that are important to you or that you want to focus on, and then kwiz against those topics.
Kwizbot will continue to smart-select questions from your Study Plan based on your needs to feed into your suggested kwizzes. This way you'll always have the choice between guided (based on your Study Plan) and self (based on your Notebooks) study.
Free accounts include one Notebook, you can create multiple Notebooks by upgrading to a Premium plan.
Spanish Language Learning Library
Your Spanish learning library is where you'll find our ever-growing collection of all of the lessons, exercises, challenges and study lists you'll ever need for every level.
Under each category or term, you'll find relevant lessons and can add any of them to your Notebook with just a click.
Achievements and awards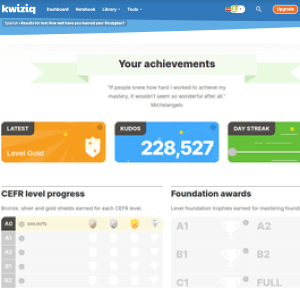 Learning a language is a huge commitment: there's so much to learn and we all need motivation from time to time. That's why we created an awesome awards and achievements system to inspire and encourage you.
You gain kudos points for all of your learning successes, small and large. You rack up bronze, silver and gold stars for achieving levels of confidence in specific grammar topics. There are badges to be earned for consistent and productive study behaviours, and every level has a bronze, silver and gold shield for you to work toward, representing basic competence, proficiency and mastery in that level.
Last – but most important of all – you can earn Level Foundation Trophies by going back over earlier levels and perfecting your foundational skills.
We also have a public leaderboard which shows the top kwizzers every month, and the competition is getting pretty hot!
And of course, you can always brag about your achievements on Social Media and tag us!
Studygroups and Teacher Features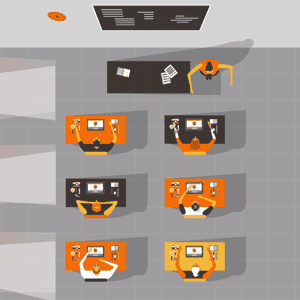 Learning with other people can make learning Spanish more fun! We have a growing set of social learning tools and Features for Teachers.
You don't have to be in a class to take advantage of our StudyGroups feature: set one up for your friends or family to coordinate learning, share homework, collaborate and even compete.
If you are in a class, then your teacher can use these features for free to assign you lessons to practise. Since Kwizbot marks and tracks everything, all your teacher has to do is check your progress to know what to work on with you next.